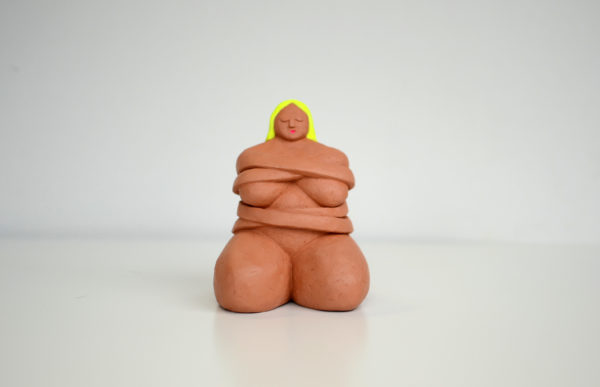 SELF EMBRACING FIGURINE
SELF EMBRAZING FIGURINE (2066-2088 A.D.)
The 21st Century was the supermodel-era. Media and advertisements spread a contemporary ideal of beauty around the globe. Ideal measurements for models were androgynous 90/60/90.  Many people, especially women, developed eating disorders and self hate, because they could not fullfill this unrealistic ideal. This Self Embrazing Figurine was used in strong women circles and rituals for self-tolerance, self-love and pleasure.
Aus der Serie: EARTHY ENTITIES FOR THE CHALLENGES OF THE 21ST CENTURY
Ein Projekt von Vero Cordoba und Marina Stiegler / 2018 / 10 Jahre Schaumbad-Freies Atelierhaus Graz. Austria.