Earthy Entities for the Challenges of the 21st Century
Serie aus 17 Figuren und Figurengruppen, gebrannter Ton und Acrylfarbe, 2018-2023
Vero Córdoba & Marina Stiegler
Archäolog:innen einer (fernen) Zukunft haben eine Reihe von kultischen Tonobjekten zutage gefördert. die aus dem 21. Jahrhundert stammen und Earthy Entities [Erdige Wesen] genannt wurden. Diese Wesenheiten zielten darauf ab, die archaische Kraft von Ritualen und magischen Objekten ins Leben der modernen Menschen zurückzubringen und sie solcherart bei den Herausforderungen des 21. Jahrhunderts zu unterstützen.
Menschen schienen schon immer den Drang zu haben, symbolische Objekte zu schaffen, um damit verschiedene Zeremonien und Rituale durchzuführen. Sie unterstützten die Kommunikation zwischen dem Transzendenten oder dem Übernatürlichen und dem täglichen Leben.
Die hier präsentierten Wesenheiten sollten die Menschen dazu befähigen, drängende Herausforderungen zu bewältigen, wie Umweltzerstörung, Armut, Hunger, Migration und Fremdenfeindlichkeit, Diskriminierung, Vereinsamung, Intoleranz, totalitäre Regime, usw.
Eine Serie risographierter Karten erläutert die jeweiligen Fähigkeiten der einzelnen Objekte.
Earthy Entities for the Challenges of the 21st Century

Series of 17 sculptures, fired clay and acrilic paint, 2018–2023
Vero Córdoba & Marina Stiegler
Archaeologists of a (distant) future have unearthed a number of cultic clay objects, which are from the twenty-first century and were called Earthy Entities. These entities aimed to bring back the archaic power of rituals and magical objects into the lives of modern people and thus support them in the challenges of the twenty-first century.
Humans have always seemed to have the urge to create symbolic objects to perform various ceremonies and rituals with. They supported communication between the transcendental or supernatural and everyday life.
The entities presented here were supposed to enable humanity to overcome pressing challenges such as environmental degradation, poverty, hunger, migration and xenophobia, discrimination, loneliness, intolerance, totalitarian regimes, etc.
A series of risographed maps explains the respective capabilities of the individual objects.
Installation @ <rotor> Zentrum für zeitgenössische Kunst. Graz. Austria.
At the exhibition Beings & Creatures_Beyond the Tangible, 2023.
Foto by Schubidu Quartet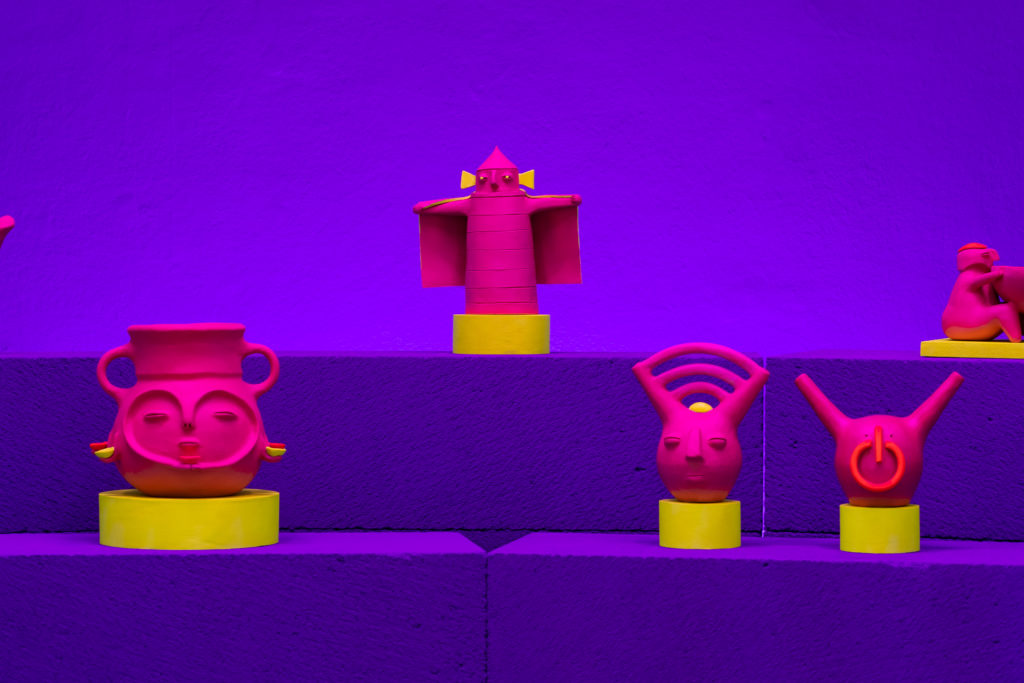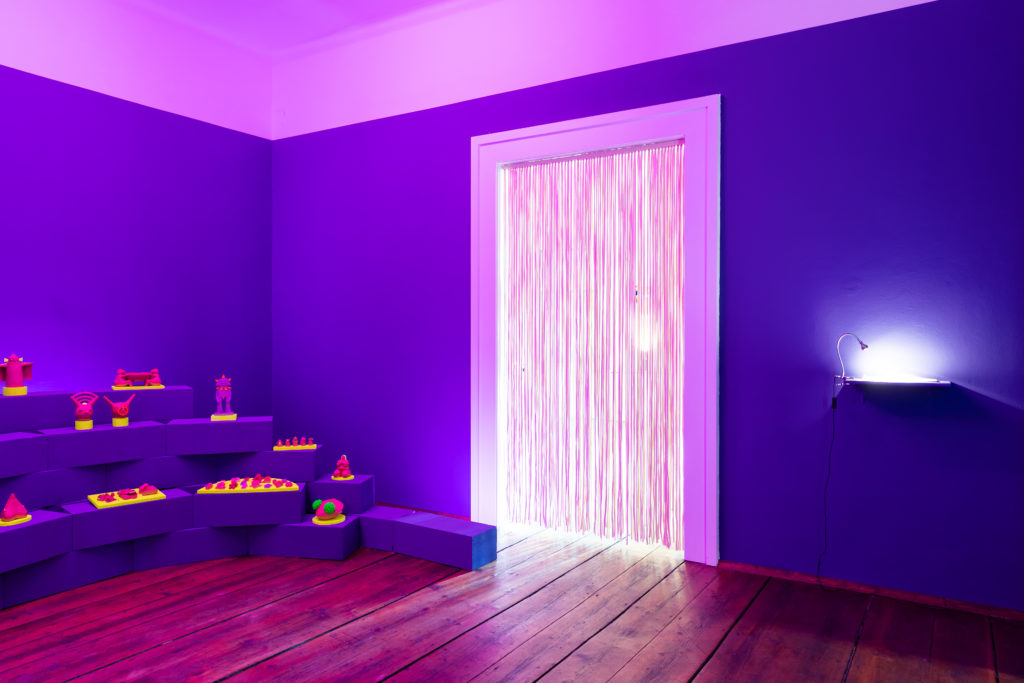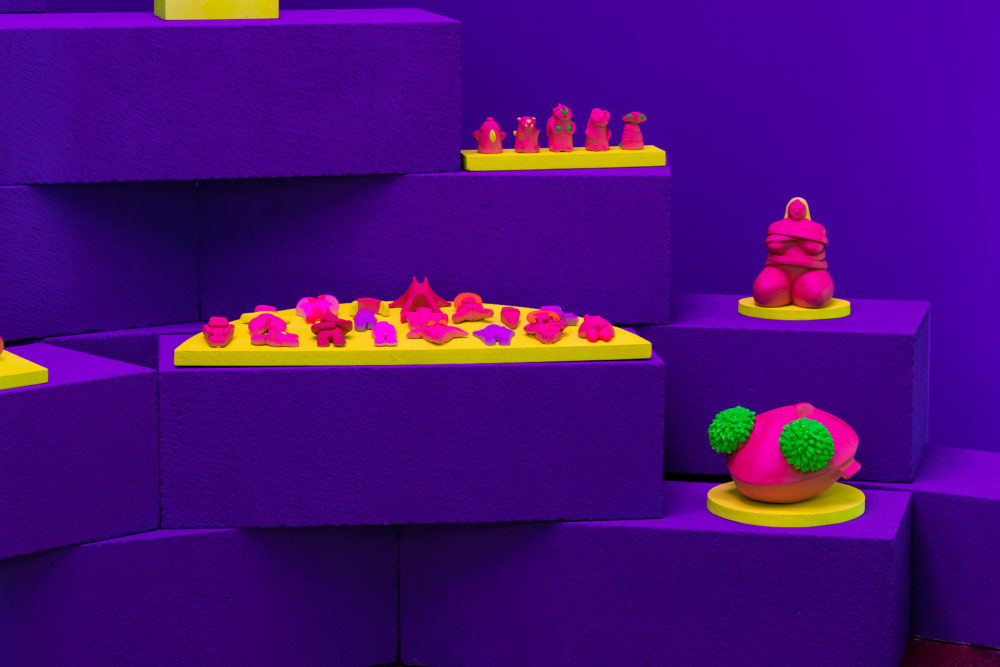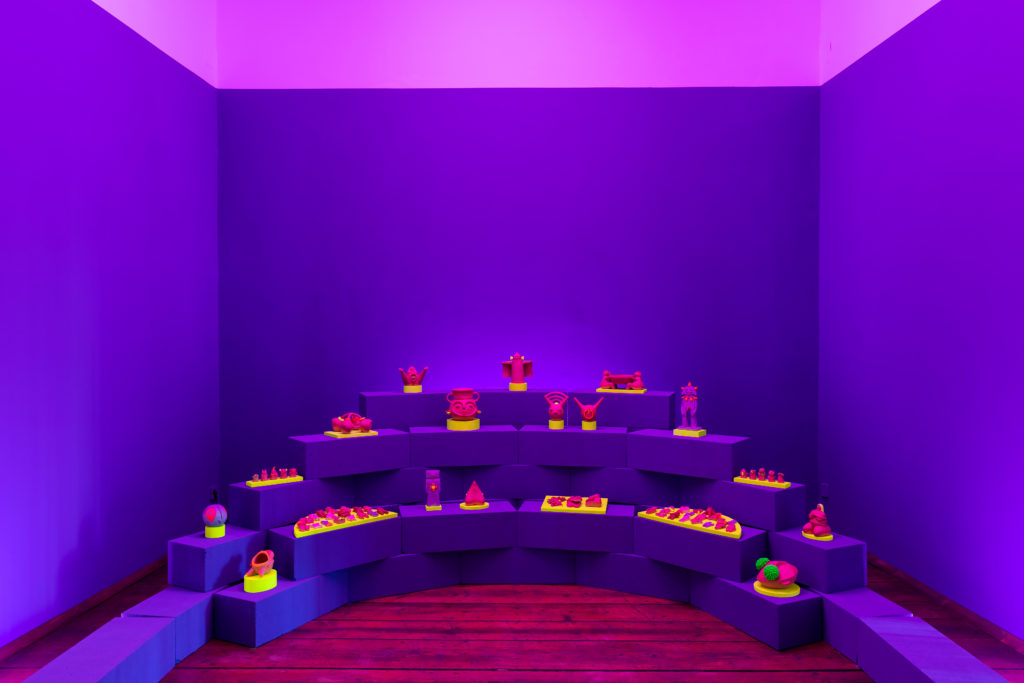 PORTFOLIO: EarthyEntities_Portfolio_web